A few days back India faced its first drone attack on Jammu Air Force Base with no casualties were reported but the whole incident clears one thing that India's National Security structure has to make more robust defense mechanisms with changing dynamics of unconventional warfare. One such example of changing dynamics is drone warfare.
Drone Warfare
In drone warfare drones are used to carry out airstrikes or deliver targeted killings or offensive attacks by loading the drones with explosives. States especially the US had substantially used drones to carry out strikes in Afghanistan and nowadays drones have been used by terror groups to increase offensive against a state, especially ISIS has made themselves equipped with the capabilities of drone warfare and carried out attacks in Iraq and various other states to weaken the forces and destabilize their assets.
Adopting New Ways
After the abrogation of  Article 370 and acceleration of offensive and crackdown operations against Terror has left Terror outfits with no choice either surrender or die. ISI's space was also squeezed to push terror inside the Indian borders and plan new terror modules. ISI and Terror outfits are not getting much room to operate however Pakistan's all-weather friend China has always clandestinely contributed in backing and reviving them and this time it is done through drones that too in a different manner. Earlier drones were only used for logistical purposes but now drones are used to carry offensive attacks and targeting strategic and military installations. This new way has added new dynamics of sub-conventional/unconventional warfare between the India-Pak Axis and opened new ways for Pakistan to increase unconventional capabilities against India, apart from cyberwar and terrorism the drone attack is one of its first kind of attack. Well, it is a matter of concern because with terror groups becoming capable of waging drone warfare then without crossing borders they can cause serious damage to our strategic and military facilities.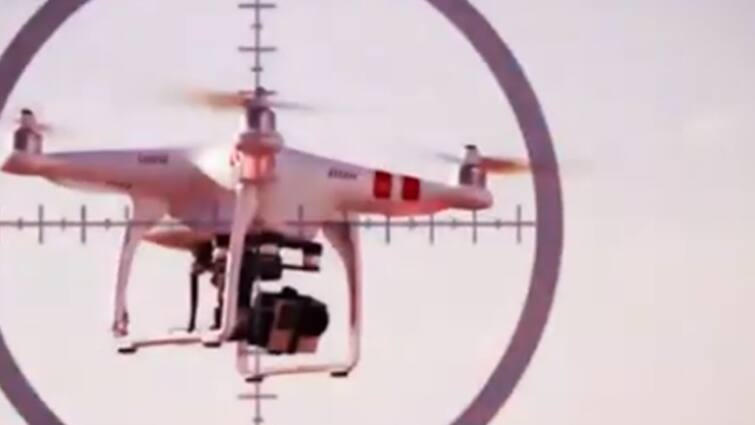 Decoding The Message
The message from ISI and terror outfits was clear and loud after the attack on Jammu Air Base that we(ISI, Terror Groups) are capable of breaching the security and borders despite heavy resistance and this time in a new and more lethal way. The same is quite visible after a drone was spotted after India's High Commission in Islamabad.
High Scale Threat Levels
When we talk about threat levels associated with Drones and specifically when drones are used for offensive purposes by violent non-state actors(Terror Groups) then without a second thought, the threat levels are high and if we didn't deploy robust Anti Drone Mechanism on time then we could anticipate some big attacks, and one of the main components associated with Drone Warfare Swarm Drone Attacks which is more threatening and deadly.
Swarm Drone Attacks
These types of attacks used to inflict mass scale casualties and mass destruction to the targeted area mostly carried out by deploying weaponized drones in groups consisting of around 20-40 drones wherein some inflict damage by dropping bombs/explosives/deploying missiles etc. and some by crashing and self-detonating near the targeted area. Swarm Attacks primarily target strategic and military assets/facilities or largely built public places and airports. Almost a similar low-grade incident has already been witnessed when Jammu Air Force got attacked by Drones.  Without any delay, this should be treated as an alarm before the real threat comes in or a big attack takes place.
Counter Measures
At present India's National Security calculus and top brass is in full swing to deal with the drone threat and mitigate all the possibilities of terror-backed drone warfare in the future. Three options are in full exercise to deploy counter the drone threat effectively:
1-Fast Tracking the delivery of Anti Drone System(Smash-2000) from Israel
2- Developing Indigenous Anti Drone Mechanism by DRDO- Durga 2
3- Intelligence Gathering On Supply Chains of Drones to Identify such chains and destroy them
Considering the present situation and possible/anticipated threats, both the options are treated at topmost priority at New Delhi because what we saw is the initial stage of developing threat and we have to mitigate this threat which has the potential of inflicting mass destruction before its too late.