The Indo-US relationship is reaching new heights and the bond and partnership between the two nations are also growing in many key strategic and defence domain. After S Jaishankar's four-day visit to US months earlier. Recently US Secretary of State made a two-day visit to India. Amidst the developing geopolitical, security, and strategic anxieties Blinken Visit holds important for boosting Ino-US Relationship and Security Cooperation in countering the growing adversaries.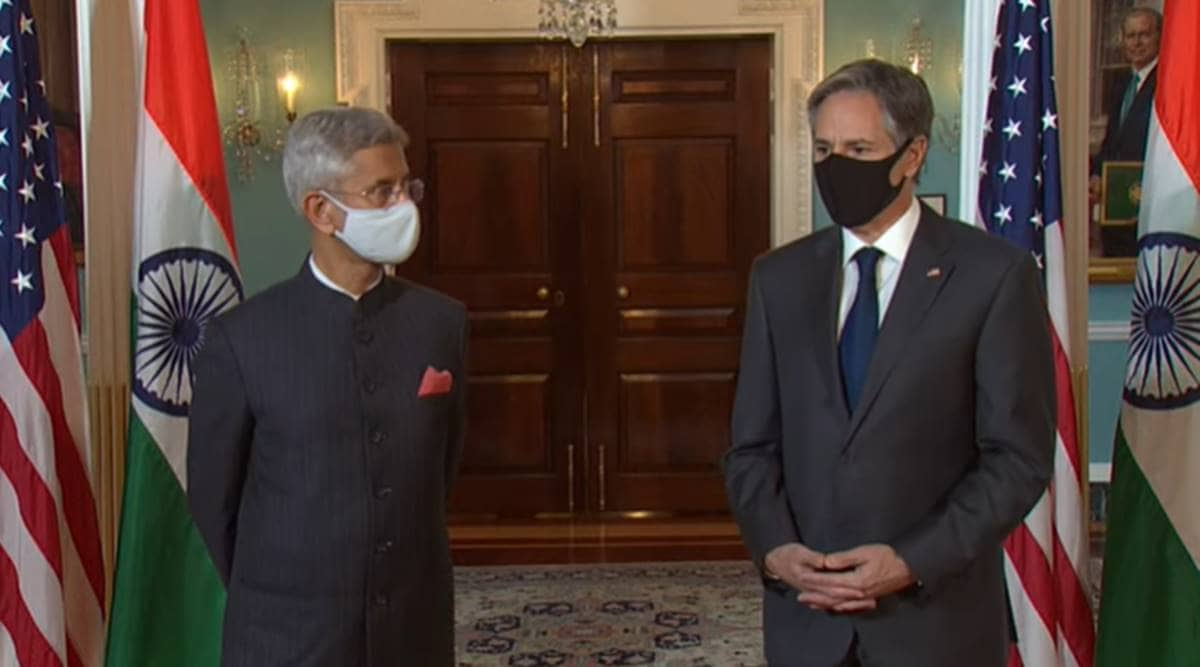 Need Expansion Of Strategic And Security Cooperation
The Indo-US relationship has ventured to a new strategic and defence domain since the last year be it the Indo Pacific Strategy and breaking the deals of MH-60 Helicopters. China's growing attempts of creating influence and dominance in the South Asian Subcontinent has also encountered a break after the Indo-US partnership grew to counter China. Therefore, given the present situation and evolving geopolitical and strategic changes and threats in the South Asian Region especially Afghanistan. New Delhi and Washington DC have to expand their relations and get more closer to the table to fight common threats and attain common strategic goals and interests. The present situation in Afghanistan calls for immediate attention and the larger role of Indo-US partnership to combat growing Pak-China nexus in Afghanistan, Talibanization of Afghanistan, and presence of ISIS, Al-Queda, and Pakistan fighters is also one of the major security challenges not only for New Delhi but for  Washington DC also. The developments taking place in Afghanistan are signaling that soon Afghanistan will become a regional destabilizer due to the presence of Terror elements and the Haqqani Network. Pakistan's aim in Afghanistan is to attain strategic depth against India in both conventional and unconventional war. For China, economic and influential expansionism in the Southern Asian Region to undermine India's position as a key regional power in the South Asian Region would pose a serious challenge to US strategies of countering China in the Southern Asian Region and their aspirations for building a more concrete structure of QUAD and Indo- Pacific Cooperation. Therefore at present, the security and strategic challenges are on two fronts or two folded and require the greater role of both US and India towards Afghanistan to effectively combat the anxieties and challenges.
Soft Signals To China On Visit
Antony Bliken during the visit to India met with Dala's Lama aide this development is seen to send soft signals to China in counter-response to an unannounced visit of the Chinese President to Tibet.
The Multilateral Venture
The growing sense of multilateralism has also created a new opportunity for growing cooperation between New Delhi and Washington DC at common interests. Creating QUAD and Indo Pacific strategy has added a new line of cooperation which brought India and the US closer on defence and strategic matters. Apart from the strategic potential of QUAD and Indo-Pacific, this venture of multilateralism also holds economic and trade potential which will be instrumental for expanding the Indo-US relationship. Whereas, on one hand, multilateralism opens a window for expansive cooperation between the Indo-US relationship and even to the other key partners. On the other hand, the need for Health Cooperation between the two nations is growing in good shape but needs to be speeded up more concretely here the multilateral venture of Indo Pacific and QUAD will also help in exploring new ways of health partnership and cooperation.
The Health Partnership The 'New Critical' In Indo-US Relationship
India battled through the second wave of COVID-19 and during its initial phase the situation in India was harrowing and people were gasping for oxygen on the streets. In those tough times, US stepped up and reciprocated by lifting the ban on raw material exports and sent the vaccine raw materials to India moreover waived off the patent issue (TRIPS). This shows the laying of the foundation stone of a strong healthy partnership between US and India. Amid a heated political debate within the country and considering the scale of the pandemic in India, the health sector of both nations will be of utmost importance preceded by defense and strategic sectors. Expanding the relationship will also be able to devise strategies between the two nations to give a boost to vaccine cooperation and development and to give shape to this new domain which will be beneficial in the growth of Indo-US ties.
Easing Frictions To Explore Options
For Indo-US Relationship to explore more options for better cooperation and deepening of the ties, US needs to relax the turbulent trade ties with India especially dealing with tariffs and trade privileges to explore more options in the sector of Energy, Climate Change, and Trade. Considering the present strategic changes, the Indo-US partnership has to be frictionless because both nations have an important role to play in the present environment of global politics especially when it comes to China and Afghanistan and blocking Pakistan maneuvers against India. Since a new scope of healthy partnership and diversification in the relationship has started to grow and the strategic importance of both the nations has soared to new heights after China's rise and multilateralism(QUAD and Indo Pacific) now its time that New Delhi and Washington DC have to diversify their cooperation, shape them and ease out the friction so, therefore, expanding and pushing ties for the greater role in the present sensitive environment is crucial and aimed in that direction of giving shaping Indo-US relations for a greater role and new areas of cooperation especially combatting security challenges in Afghanistan and Pak-China Nexus.