It seems that Joe Biden has now stuck in new crises after Afghanistan mess and this time the crises comes from its one of the closest ally- France. The historic submarine deal which was slated between Australia and France was called off at the very last moment and France was kept in dark. This has sparked heat between France and US relations and also threw the spotlight over the emergence of one more pact- AUKUS in international politics.
The Fallout
The whole friction began when Australia called off the historic and around 40-60 billion dollars deal of attack diesel submarine at the last moment and switched the side to the United States for purchasing SSN(nuclear-capable) submarine. This irked France and as a result, France called its Ambassadors of the US and Australia signaling the seriousness of the issue moreover France went on record and said that it was a stab at the back. This development from the France side is for some is an overdramatic reaction but for some, France's reaction is true and fair to some extent because even during formal minister's meet between Australian and US counterparts were also silent on this secret deal and France got to know about the deal as normal people got to know that is from the media. This means that France was totally in the dark and therefore chances of getting displeasure or fallout were bound to happen but the magnitudes of the events unfolded were not expected. However, the US France strain in relations is one side of the problem and it is imperative to know that in what backdrop these events have taken place. The fallout happened in the backdrop of the emergence of a new trilateral pact consisting of US, UK, and Australia known as AUKUS.
Strategic Significance of AUKUS
There is no denying the fact that AUKUS is not just a pact formed in the air this pact bears the intense potential to alarm the bells of China. It is a bit different from QUAD although both have fixed themselves on the same part of the world map i.e. Indo Pacific Region. However, there is a very sharp line that distinguishes QUAD from AUKUS in their objectives. QUAD has been made for meeting objectives like securing maritime domain in Indo-Pacific, strengthening partnership among Indo- Pacific nations to increase regional cooperation, and also ensuring free navigation in the Indo-Pacific region. At the front face QUAD seems to be functioning like any other ordinary alliance grouped together to specifically serve the interests of Indo-Pacific but what it hides is its strategic aspirations to counterbalance growing Chinese power and its hegemony in the Indo-Pacific region especially in the South China Sea. QUAD plays its strategic moves camouflaged under the cards of diplomacy and regional cooperation. However this is not the case with the AUKUS, the trilateral pact is a security alliance and this lifts up the strategic aspirations of directly countering China through demonstrating gunboat-like diplomacy to China by increasing naval power in the Indo Pacific Region. In reality, AUKUS revolves around Australia where the main focus of AUKUS is to increase security cooperation with Australia and further contribute to increasing Australia's naval power to counterbalance China. It is imperative to mention here that Australia is always on China's radar for imposing trade sanctions but after the emergence of AUKUS, it would provide relief to Australia to some extent and also provide Australia to expand its trade and economic options. Therefore it can be seen as a clear attempt to effectively develop strategic and security capabilities against China.
The Relationship of QUAD And AUKUS
Though the functioning and structure of both the alliance are different the strategic aims be it hidden or in open is clear that is to counterbalance China's hegemonic power therefore, it can be said that these two alliances run parallel to each other and complements or supports each other for achieving the strategic goal of countering China's influence and growing hegemonic power specifically in the Indo-Pacific Region. These two alliances in future if things went well and positive growth was seen in the alliance's future then both alliance bears the potential to encircle China from two fronts- 1) Regional Front 2) Security and Strategic Front which will play an instrumental role in controlling China's naval dominance.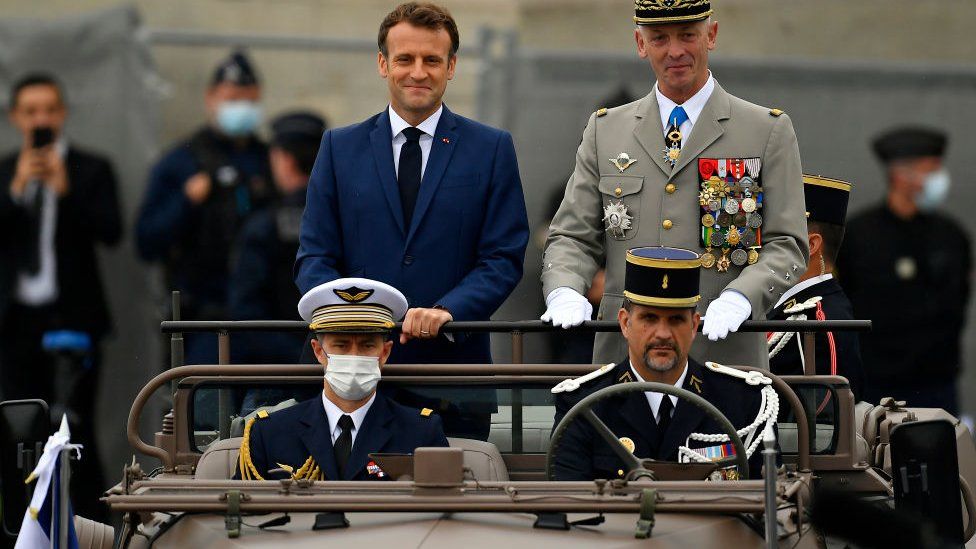 Stabbing At Back
Australia's move of scrapping the historic submarine deal and switching the deal to US at the very last moment has given a big blow to France and has created a sense of mistrust in the France US ties and with this development, Joe Biden has invited another crisis after Afghanistan into his hat. France responded by calling its Ambassadors from US and Australia which is seen as a huge development. US and France- the relations of two close allies have never witnessed such kind of friction. However, if we see the other side the move of US and Australia breaking a deal with each other of the nuclear submarine can be seen as a strategic necessity for Australia because naval capabilities of Australia have never been in so strong a position and lacks proper direction and given the threat from China Australia cannot afford any miscalculations, therefore, it becomes important for Australia to not to compromise on the defense-related matters and hence proceeded with buying SSN Nuclear capable submarines. Australia justifies the US deal by saying that France was not able to provide us with what we actually want and further summarized that given the security challenges that Australia is facing the French submarines are not fit for its security arsenal or calculus. However, turning things upside down at the very last moment is also not a justified move from Australia and US as these kinds of maneuvers be it for any reason creates an atmosphere of mistrust among nations and in this case nations were each other's close allies and any irritant or friction will affect the geopolitics. If we look at wider outlook it can be said that this deal will also shrink or affects France ambitions in Indo- Pacific region as its already clear earlier this year that the EU has also begun showing its interests towards Indo-Pacific and since Europe is showing interests in regional cooperation and also with possible plans to counter China. France being a major military and trade player in the EU decided to begin marking Europe especially France's influence in Indo Pacific but with this submarine deal issue France's aspirations hit a hurdle and this has upset and annoyed France.
The Diplomatic Crises
France has a very important place in European Region especially in the EU ranging from military defences, trade energy, etc and with its new crises it is highly likely that It might affect US-EU relations especially the trade relations between France and the EU. It is very important for Bide to immediately get into the repairing work and repair and get US France relations on track because unstable or friction-filled relations with France would cost the United States and create problems in setting its approach and maintaining its relations with the EU on the matters of trade which plays a very important role in shaping US transatlantic relations. It also seems that Biden might have to press another reset button just like Middle East Approach. Whatever may be the case the real after-effects and how US will shape its response towards France and the EU is something to wait and watch.